Werkout Wednesday: Ro Fitness
Hello, hello from one of my favorite cities in the US of A,
AUSTIN, TEXAS!!!
The food here is delicious, the live music is impressive, the drinks here flow freely and everyone keeps up with this fun lifestyle by keeping active and in shape! I have spent a lot of time here in Austin and absolutely love it!! Full disclosure, I even tried to date around here for awhile so that if I met someone I would have a chance to move here. Shameless, I know. Worth a try for a great city though. But now that I'm a few years wiser and more mature (maybe), I come here to enjoy the food, the fun and of course the fitness!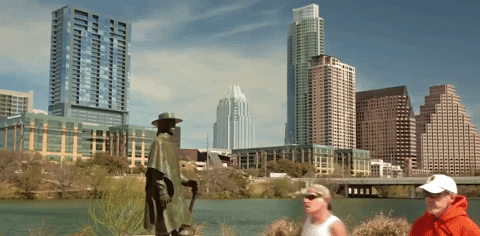 This week I am in Austin for a Yoga Medicine training focused on women's health. It is so interesting and if you have been following me on Facebook or Instagram...which I very much hope you are...then you'll get a sneak peak into all the Traditional Chinese Medicine I'm learning that I can't wait to share with you in the future. Buuuuut in the meantime I want to tell you all about trying something BRAND SPANKIN NEW for me...rowing! I have never in my life tried rowing (besides maybe a paddle boat) and I have never even done a rowing machine at the gym. But my boyfriend swears by it and the stubborn/curious side of me figured if he can do it, I can do it. And since I had no idea what I was getting myself into, this rowing class was a perfect introduction. So here goes...my review of Ro Fitness. Enjoy!
Location: Ro Fitness
City: Austin, Texas, USA
Class: Cardio Ro
Description: A group class that takes place on rowing machines. The machines and techniques are explained and demonstrated to you by the instructor on their own machine. Think a cycling class but on rowing machines instead.
Level: Moderate: This class is definitely challenging even for someone who works out on a daily basis. This by no means should scare someone away but I think its important to note that it works a lot of muscles in a really unique way and there's next to no way to slack during this class without just stopping. The instructor does give you breaks between sets but you should go to this class ready to work.
Geared Towards: Everyone with a competitive spirit. This class was pretty cool in terms of diversity because there was an older man on one side of me, (although I'm pretty sure he was a professional rower or whatever you call that) a woman in probably in her fifties on the other side, two women who were on rowing teams in college, a couple who I would guess have kids in college and a younger, sporty looking guy in what I would say his late 20s-early 30s. My point is, this was probably the most eclectic class I've been to in awhile of any kid and we all got a great workout. To be honest, the older man next to me who was at least twice my age, completely and totally kicked my butt in the racing sequences. So as they say...age is but a number!
What I Loved: Location, location, location!! If the weather cooperates (which it usually does in Austin) the machines are put out on a patio overlooking beautiful Lady Bird Lake! It was so amazing to get fresh air and watch the water! It almost felt like you were in a real boat.
What I Would Improve: I'm not sure if this can be improved without just going more than once but I personally felt the workout the most in my shoulders and back which led me to be insanely sore the few days after. This was probably just due to me not having the perfect technique and using new and different muscles than I'm used to. When I told my instructor that it was hurting my back she did give me some tips and I think by the end I was using more of my legs which would probably help with uneven soreness in the future.
The Studio: Again, it sits on the water with a gorgeous view that I just couldn't get over. It also is attached to an adorable coffee shop that you can grab a snack or a drink before or after class. Other than that, the studio seems really pretty basic.
How to Access: I found this class on Classpass (you may be sensing a theme here) and you can also do drop in classes and packages.
Now head on over to our Instagram and Facebook pages to watch me try something completely new and foreign to me. If it looks like I was just sitting and scooting my body back and forth, thats pretty much all there is to it but somehow it makes you sweat and work all your muscles at the same time.